Hi guys! only 2 more sleeps till christmas! so excited and looking forward to all the food and fun filled adventures of christmas and boxing day!
since finishing uni, i've been in the kitchen baking almost every day, it got to a point where mum was like, stop baking, there no more room to store your baked goods ( this is pre giving them away)
but that did not deter me. baking to me is so therapeutic, it de-stresses, it symbolises a celebration and sharing food with loved ones.
so today's post is on a family favourite, something non-chocolate and light ( well relatively, i didn't tell my parents about the amount of butter that went into the tart pastry, so shhhh!). The lemon meringue tart is a lot of fun to eat, you get the crumbly tart pastry, the tangy lemon curd and the light and fluffy meringue all in one bite, its like a party! i was tempted to add in some popping candy in the lemon curd but was worried it would pop before they got eaten and that my parents would freak out :')
for the pastry, i used maggie beer's sour cream pastry, for the lemon curd recipe, i used NQN's. the lemon curd can be prepared ahead of time and kept in the freezer for ~3 months. its also good with banana bread and on raisin toast!
1-2 tablespoon lemon zest
1/4 cup fresh lemon juice
1 tablespoon unsalted butter
1. whisk sugar, cornstarch, salt and egg yolks together in a saucepan.
2. Put saucepan over low to medium heat and gradually whisk in the 1 1/2 cups water. Whisk until all water is added and the mixture is thickened.




2. Add the sour cream and continue to pulse until the dough starts to incorporate into a ball.


4. place prepared tart cases in the preheated oven and bake for ~15-20 minutes, depending on your oven. once baking is done, allow it to cool with oven door opened for ~10 min then transfer onto wire wrack to cool completely.
While the tart cases are cooling, you can start preparing the meringue.
Meringue
Ingredients
4 large egg whites
160g of sugar
1/4 tsp cream of tartar
Method
1. separate 4 large eggs ( 750-800g dozen size) and allow it to return to room temperature*
2. start whisking egg whites on a slow speed and gradually increasing the speed of hand mixer to mid-high speed.
3. measure and add in cream of tartar.
4.measure out 130g of caster sugar and add into egg whites in 3 parts, whisk until you get stiff peak and a glossy appearance, be careful as you don't want to over whip the egg whites.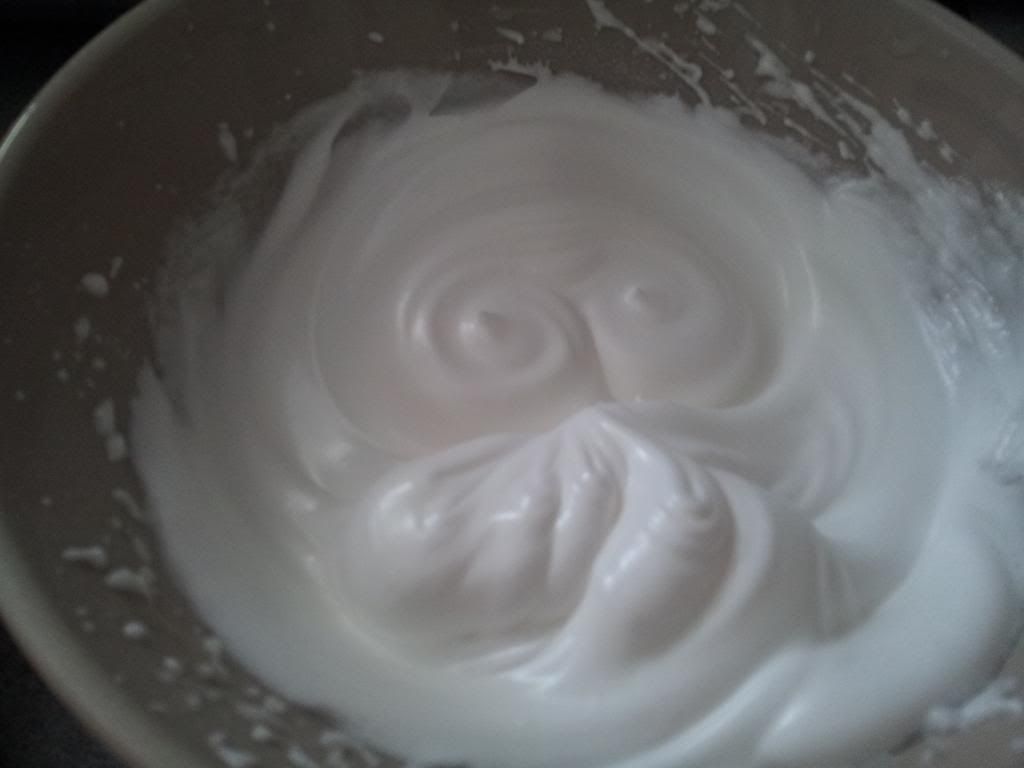 3. Remove pan from heat and whisk in lemon juice then the zest and then the butter.
Maggie Beer's sour cream pastry
unsalted butter, chilled and cut into small pieces
1. To make the pastry, dice the butter, then pulse with the flour in a food processor until the mixture resembles fine breadcrumbs. ( if you don't have a food processor, this step can be done with your hands)
3. Wrap the dough in plastic film and refrigerate for 20 minutes.

Roll the chilled pastry out until 3 mm thick and cut using a round cutter, then place the cut out into a tart tin and press in gently, making sure the pastry reaches the tin's edge. Once they fit, take a skewer and poke 5holes on bottom of tart casing, this prevents the tart bottom from swelling up.
i like to use the above picture as reference, do you see a face? i swear i'm not high on mushrooms!
Fill the cooled cases with lemon curd, i like to top them so they are slightly full.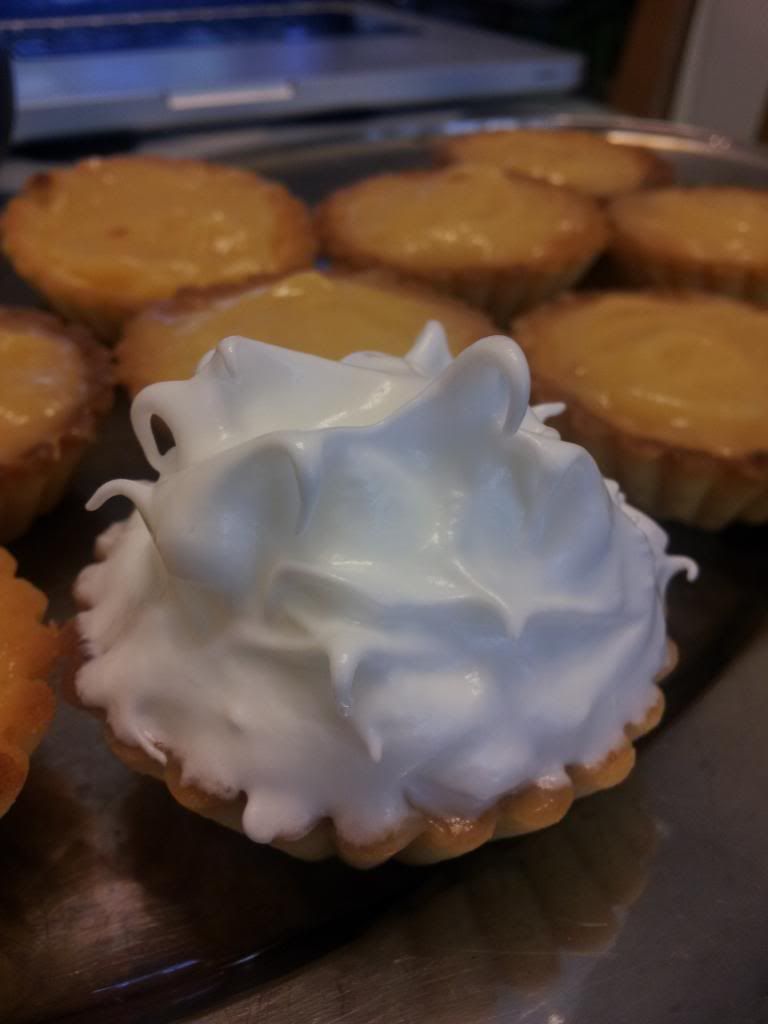 then put a dollop of meringue on top, smoothing the sides out so you get a spherical shape, once that is done, use the edge of spoon and do a push pull motion to get the finger like projections.
then use a blowtorch or grill to brown the tops, i normally use a blow torch for better control and more even browning, but i somehow managed to melt of a plastic bit so i've got to replace mine. :(
With the weather being crazy hot, they will be popular!
they can sit at room temperature for 2-3 days and in the fridge for up to a week.
i hope you have fun baking and eating heaps!
below is my cookie christmas tree, if you would like the recipe, pls let me know via comments!
Have a very merry christmas and have some wonderful time with loved ones! stay safe and be merry!