Hello again humans! i'm getting back on track with blogging, yay! i need to be more organised and use my time more wisely! So, if you have been on instagram (follow my crazy food adventures on @milkteaxx), you would of noticed that uve started growing bits and pieces myself, at the moment i have A LOT of basil, chives, shallots, rosemary, lemon grass, baby spinach and sweet potato. the baby spinach isnt really growing ( or is it supposed to remain the same size? cos baby spinach?!?!)
but i have made so much pesto in the past month or so as the basil grows like no tomorrow, so i decided to try something different, after searching for for a while i came up with basil ice cream.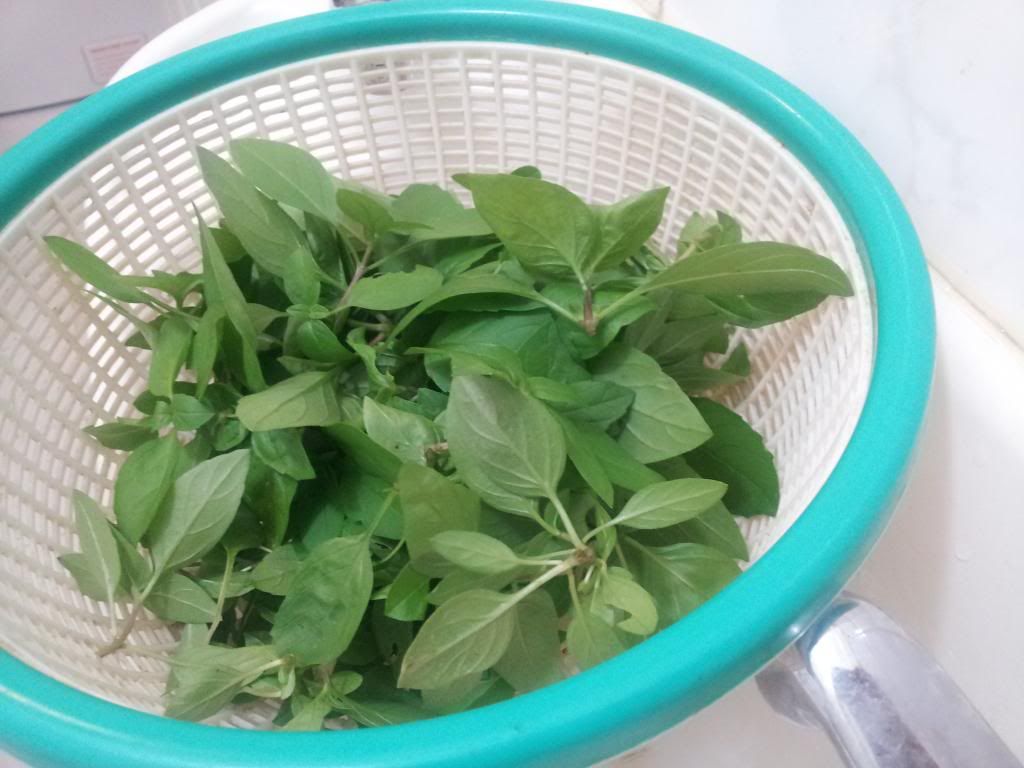 yes it was on mkr apparently (i dont watch it) but i was more inspired by the awesome desserts i had with ironchefshellie and daisy down in melbourne at Mr Hives (post to be up soon!) so i googled a few recipes and sorta mixed and matched between them (picking the easiest steps!) and adjusting the amount of sugar in it to come up with this one.
so this is a relatively simple recipe and if u have an ice cream maker, its even easier! ( i don't have an ice cream maker but it was still heaps simple to make!)
Ingredients
3 Tbsp of roughly chopped basil
2 cups skim milk ( i used devondale smart milk)
1/2 cup chilled whipping cream
1 teaspoon of vanilla essence or 1/2 pod of vanilla bean
few drops of basil essence (optional)
Methods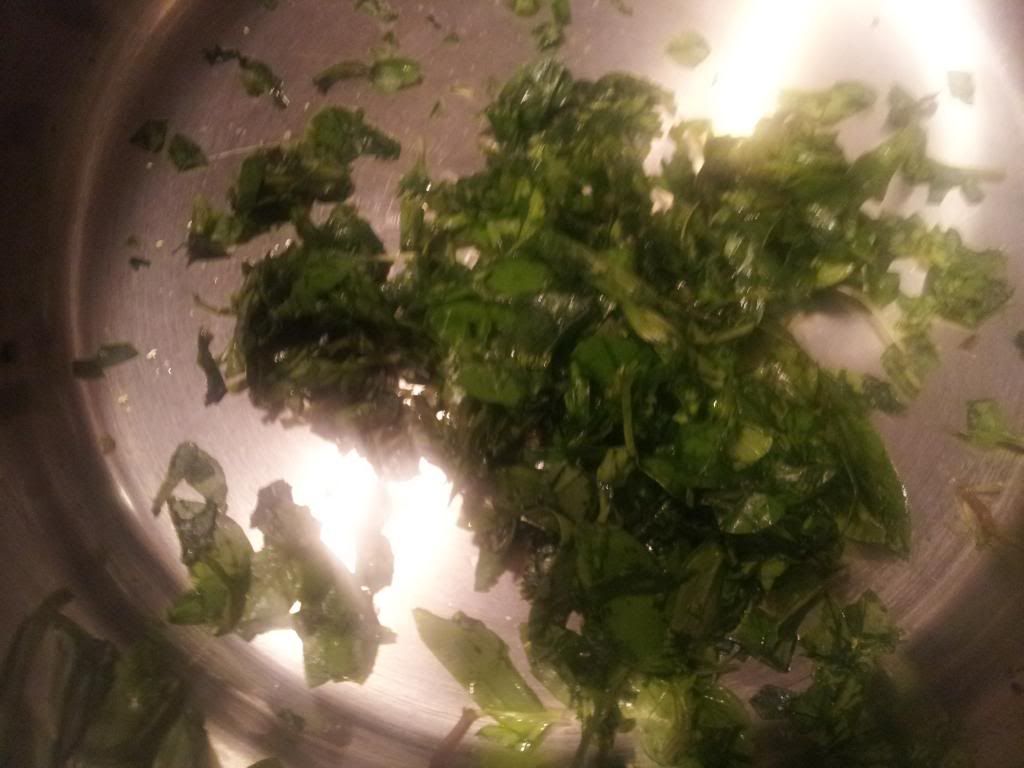 1. roughly chop up the basil and place it in a small saucepan.
2. add in the milk and 1/4 cup of sugar and mix well so that the basil is not sitting on the bottom of the saucepan. turn on the heat and bring it to boil.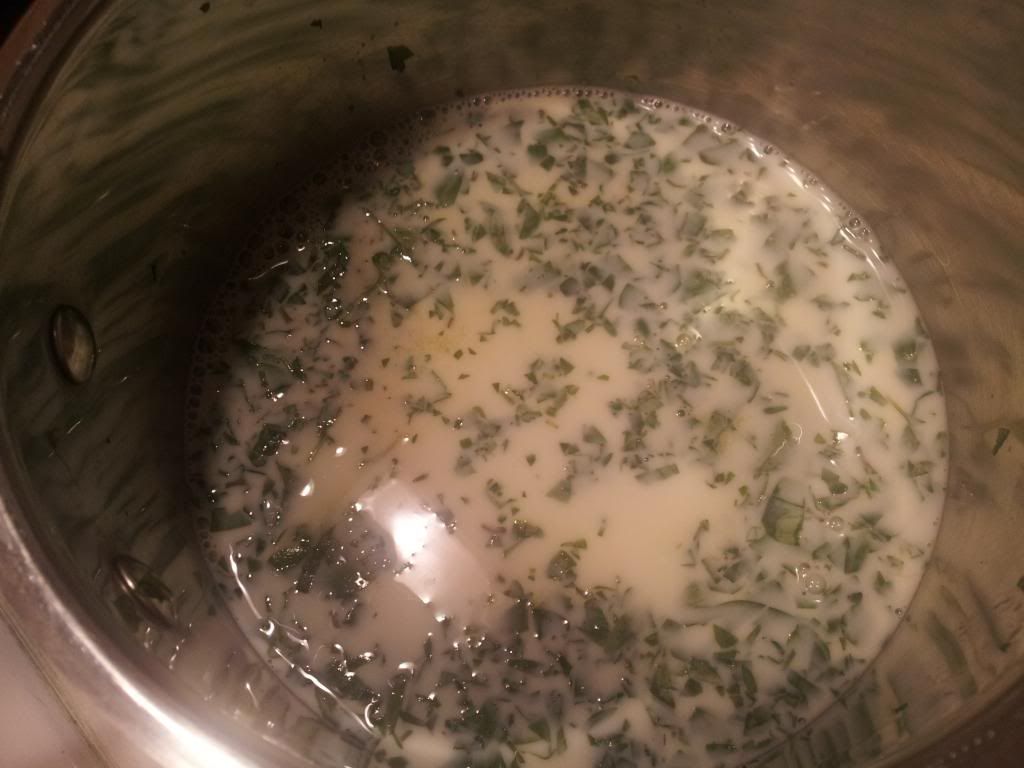 3. as soon as it comes to boil, remove from heat and let it stand for 30 minutes to seep.
4. using a hand mixer, mix egg yolks and remaining sugar until it is pale in colour. then combine with milk mixture in a steady steam over low heat.
5. cook on low heat, stirring continuously until mixture coats back of wooden spoon.
once it starts coating spoon, remove from heat and pour through a fine mesh sieve.
Allow to cool over an ice bath or a basin of cold water.
6. in a seperate bowl, combine cream, vanilla essence and basil essence, once mixed, pour in a steady stream into the strained mixture.
7. if you have an ice cream maker, churn and freeze inside an ice cream maker, if you dont pour into a freezer safe bowl and freeze overnight, taking it out at 30 minute intervals for the first 2 hours and mixing it with a hand mixer to churn mixture.
yes its not a very pretty picture but this is the only picture i have of the finished product as i took it to a picnic and didn't have anything i could use to serve it in! ( must work on presentation!)
it may look icy but this was heaps creamy! and not sorbet like!
basil ice cream can be served with cakes, other flavour of ice creams and sorbets or on its own! i first had it as an amazing pre dessert @ Mr Hive's down in melbourne ( amazing, i tell you!)
my next ice cream adventure is sweet corn ice cream, so if interested, keep an eye out for that in the near future!
till next time,
Milkteaxx